---

---
---
One spring night in 1978 I was driving through the swamps that lie on the west side of Lake Ponchartrain in Louisiana at 1:00 in the morning. I'd just seen Warren Zevon perform live at a place in New Orleans called Rosie's; a hundred year old brick warehouse on Tchoupitoulas Street (before it was fashionable) turned into a club.
It had been a great performance -- the piano tuner was called out several times between numbers to help the instrument recover from the workout that the young guy with the raspy yodel was giving it. My table was less than fifteen feet from the stage, and I could see the concentration that was going into the performance. And the music itself ... I would have had to pull down a dozen books from my shelf at home to have covered half the ground this man's lyrics did in half as many songs. As the cypress trees slipped by in the dark and the alligators hunted in the water below the elevated bridge on the way out of New Orleans, my head was spinning. I had two albums by this man, and I was certain he was too good for me to ever have a chance to buy another. The music was too wonderfully odd to appeal to many people ... I would have to hoard what I had and expect it to last me.
Well, Warren Zevon didn't disappear, although at times it seemed like he had. I rarely read about him; the albums were spaced apart by two to three years, and the singles rarely got radio play, even in L.A.. Just when I would begin to think Zevon had stopped writing, I'd see an ad in the paper for a show at the Wiltern Theater, and my spirits would rise. Those albums and shows got me through some difficult times.
Through the years I've found that Zevon shows up in my life in the oddest places and at the most necessary times, all unintentionally, to get me through: in 1980, when my life was falling apart and I was on the road out of Louisiana headed back to California; in 1988, when I found myself leaving Los Angeles for Illinois; in the winter of 1989 when I was on the road from San Jose back to L.A., dragging the remnants of my life behind me. And in 1995, less than a week after I'd watched my beloved Los Angeles disappear in the rear view mirror, I bought "Mutineer" and saw Zevon play in Peoria, only an hour's drive from my new home. It was almost like a blessing ... a promise that my new life wouldn't be so bad.
Now, the artist I was afraid was too good to last has an impressive body of work, including a wonderful anthology that could (and *should*) have been a triple CD package instead of just a pair of discs. It covers over twenty years of extraordinary songwriting.
The Chinese say that if you save someone's life, you are bound to them forever (whether you want to be or not). Warren Zevon's music has been a life ring to me more than once. I certainly hope he doesn't mind ... any time the mutineer needs a witness, I'll be there. His music has always been there for me.
There are some impressive websites dedicated to Warren Zevon and his music, including Zevon's own official site. If you'd like to visit some of these links and find information on Zevon, columns, reviews of shows and albums, lyrics and discographies, and pictures, check out the links at the bottom of this page.
---
September 8, 2003
So, this morning the news came.
My Mutineer has hastened down the wind.
Harsh news. But then, nothing about him was easy.
Not the music. Just finding it was difficult, as listening to it could be. And getting it ... well, some people just never did get it.
Being a fan was tough, too. Albums and tours were spaced out over long years. News and interviews were almost as scarce.
And being a friend or family member could be a dicey and difficult thing, as the music and the interviews often acknowledged.
Still, some things were amazingly easy. The spontaneous laughter at a clever line, or a robust exclamation of "hah!!!" The warmth at a sweet turn of phrase, or a lovely and melodic riff. And even the tight throat and hot wetness behind the eyes at another set of words that could cut like a samurai sword, leaving the burn and the bleeding to hit one only after the blade had been pulled out and the song had moved on.
And now my Mutineer has himself moved on; hastened down the wind, thankfully in the peace and painlessness of sleep. More than he or we might have hoped for, even before the terrible news of August last. He has moved on, to oblivion or the bright discoveries of After, whatever may be the truth of death.
We who are left behind can only know the truth of life ... that there is a rent in our personal universes, the fabric of our quality of life, that can never be made whole ... only patched by haphazard darning, through revisiting the legacy of his music. I've always loved Bruce Springsteen's description of Zevon: "An idealist wrapped in cynic's clothing." A leap of faith ... I don't see it, but hope must be there ... gawds, but I had to love a soul who held to that view.
I'd put off listening to "The Wind," his last, hard-fought-for album ... even put off opening it ... holding to a superstitious feeling that as long as the shrink wrap remained intact, it wasn't Over yet. This morning, as I sat in my car preparing to go to work, I cut the plastic and slipped the sleeve and slid the disc into my car's CD player. And I listened to Track 11 ... the one I knew I had to listen to first.
And amazingly, a few tears gathered, but I mostly felt ... comforted. I knew that I would think of him with a smile as I did the housework. I knew I would never button a blouse again without his words crossing my mind. I knew that even though there will be no new words, no new songs or interviews, I'll keep him in my heart ... every time I encounter a clever twist of words, or see certain place names on a map, or think of odd moments in history.
I remember last year, staying up late one night in Key West to see him on David Letterman. He changed the words of my favorite song ... intentionally? Probably not. But the change struck me, because it was as I had always heard the song in my own heart.
I'll always be his witness ... he'll always be my Mutineer.
Hasten down the wind, sir Zevon ... and if heaven is truth, then open at his knock, heaven's door.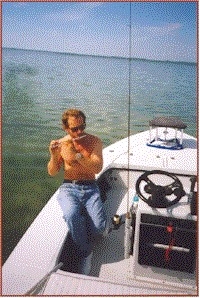 Warren William Zevon
January 24, 1947 ~ September 7, 2003
"Enjoy every sandwich."
---
The Official Warren Zevon Webpage
The official website. News, information, tour dates, and links to related sites.
~ link added 8/00 ~
The Unoffocial Warren Zevon Home Page
Information, album and show reviews, commentary, photos, and links.
~ link added 8/00 ~
A Zevon Fan Webpage
Tour dates, album and show reviews, commentary, photos, and links to discography and lyrics.
~ link added 8/00 ~
Jim Hoehn
If you love Warren Zevon, you'll probably like Jim Hoehn, a songwriter whose music is also crafted with irreverent humor, insightful observation, love of wordplay, and tendency to find topics well over the event horizon of most other artists. Check out his newest CD, "Deadline Penitentiary" ... I don't think you'll be disappointed.
~ link added 11/04 ~