---

---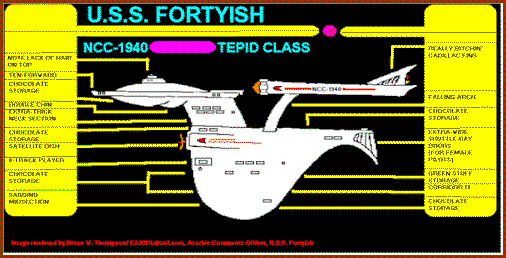 ~ Ship schematic by E2Jorl ~
The USS Fortyish ... a tepid-class starship crewed by men and women who actually watched the original Star Trek first-run. Brought together by a message board on AOL. Kept together by their common bond ... a genuine love of Star Trek, and a genuine love of making fun of Star Trek, each other, and anything else that crosses our path.
HALF AFT ~ The Website takes its name from HALF AFT ~ The Bar on the Fortyish. I joined the crew in 1996, but discovered to my dismay that there was already a bartender for Ten Forward. So I created Half Aft, a small and eclectic hangout named after the mental and physical state of its clientele. I commandeered an unused cargo bay, furnished it with odds and ends salvaged and "liberated" from other parts of the ship, stocked the bar with Green Stuff (made from Lieutenant Commander Scott's original recipe), and opened for business.
It's the best job I've ever had.
~~~
GreenWoman's Official Crew Biography
What a long, strange trip it's been.
HALF AFT House Rules for Klingons
Upon the decision to allow Klingons in Half Aft, some ground rules have been established.
The USS Fortyish Away Team
Kansas City ~ February 2000
None of us died on the planet, although the hotel bar did claim a few brain cells.
The Amazing Home Page of the USS Fortyish
All that the name implies, and more ... designed by our Acerbic Comments Officer, E2Jorl.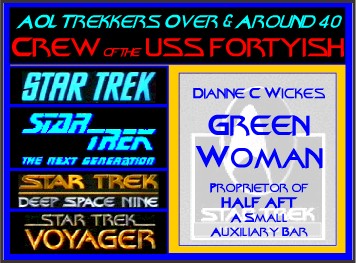 ~ in loving memory ~
Bruce Thompson, aka E2Jorl
Acerbic Comments Officer
5/11/02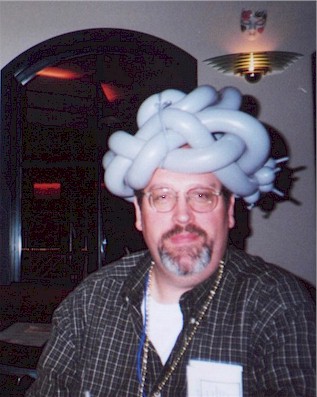 There's not enough Green Stuff in Half Aft
to drown our sorrow ...
we miss you.