---
WHAT LIFE IS ABOUT
by Maria Mogavero
maria.mogavero@optiva.com
This was written by Maria Mogavero ("Mog"), creator of the ATF/AU, as a spinoff of my story You'll Never Work in Dis Bidness Again. I present it here with her generous permission, and with my deep appreciation.
GreenWoman
---
Disclaimer: Characters belong to Mirisch/Watson/Trilogy Prod/CBS -- just borrowing, not making money.
Author's Notes: This is a continuation of GreenWoman's "You'll Never Work in Dis Bidness Again"; if you haven't read that, this won't be very meaningful (plus you'll be missing out on some really great writing). This one is dedicated to GW and Derry, with much thanks for bringing your talents to the ATF AU.
Mog
---
"But I had to see what life is about"....
YOU'LL NEVER WORK IN DIS BIDNESS ~ Jimmy Buffett
~~~
We all have our little secrets, our superstitious fears
The things we're sure no one can cure, that will bring down our careers.
But what if we just traded, I'll take yours and you take mine
'Cause you ain't afraid of big words and I ain't afraid of flyin'.
KEY BISCAYNE ~ Maria Mogavero
~~~
As he stood, watching it fall, powerless to stop it, he wished for that split second he possessed Vin Tanner's reflexes. The clear plastic cup hit the cement floor of the parking garage; the combined force of gravity and pressure popping the lid off and flinging the Grande Mocha Frappuccino with a scoop of protein powder across Ezra's Spanish leather shoes and up the left calf of his light gray dress pants. He hadn't gotten two steps from his car, hadn't even shut the door, when the icy drink he balanced on his portfolio slid its way across the flat leather case and succumbed, along with his sunglasses case, to one of Newton's theories.
"Oh, marvelous."
Ezra rested the portfolio on the roof of the Jaguar and leaned into the car to retrieve some napkins from the glovebox. He managed to get most of the chocolatey drink off his pants and shoes but the dark wet stain was evident and he suspected it would be obvious even after it dried.
Gathering up the used napkins, he stuffed them into the mostly empty cup, pressed the lid back on and wrapped it in a plastic bag from the trunk. He hit the automatic lock and pushed the car door closed, not bothering to arm the alarm. As he grabbed up his leather case and the recently acquired garbage, Ezra couldn't help but notice the small furry visitor at his feet lapping up the rapidly melting Frap.
"Well, well, the vultures have come to prey." Standish tucked his portfolio under his arm and bent down to give Cuervo some well-received scratches at the base of the cat's tail. The feline paused briefly to acknowledge the affection with a squeaky meow but then turned his attention back to the milky treat as if he was worried that it would get away.
Ezra stepped over the small form, "Enjoy, my dear boy. But," he pointed a slim finger at the well fed little cat, "so help me, God, if I come back here and find even one Frappuccino footprint on the hood of this car, I will be sportin' little orange and white glove warmers this winter."
Standish crossed to the elevators of the federal building that housed the ATF office, trying to ignore the wet, stickiness that was attempting to adhere his pantleg to his shin. He deposited the plastic bag into the small garbage by the heavy steel doors and pressed the 'up' button. The elevator let him off in the lobby and he passed through security, upset not that he had just lost three, ninety-seven but that his craving for the Starbucks specialty drink was going unfixed. Taking the second set of elevators to the eighth floor, Ezra glanced at his watch. Forty-minutes late. Divine.
Standish sensed that several of the other passengers stared briefly at his damp pantleg. He couldn't help but recall a piece of an e-mail that Tanita from the photo lab had forwarded to him entitled, "Things To Do In An Elevator."
"Turn to the person next to you, grin and say, 'I have new socks on.' Meow occasionally."
That would certainly give them something justifiable to stare at.
The doors opened and the southerner threaded his way through the data entry bullpen toward the corner of the floor that he spent a majority of his waking hours in. As he passed one desk in particular he couldn't help but notice the variety of balloons, flowers and crepe decorations that saturated the work space. Ezra paused briefly, addressing the young man behind the desk, "David, I thought your birthday wasn't till the twenty-fifth."
The bleach-blonde smiled and bobbed his head, "It is."
"Buuut, tomorrow's the twenty-fifth."
David responded in the same slow manner, "Nooo, today's the twenty-fifth." He turned his Dilbert day calendar toward the southerner showing a distinct two-five next to the word 'Monday. '
"Aw, hell." Ezra controlled himself enough to not break into a run but the long strides he took toward the large conference room made it clear he was very late for something. Through the glass walls of the meeting area he could see the three teams breaking up and begin to file out. Make that an hour and forty minutes late.
Standish rolled his eyes as Tulloch and White tsk-tsk'd him on their way past. Buck patted Ezra's shoulder as he exited the room, "Nice of ya to join us, Agent Standish. Oh, if ya missed any of that part there at the end, I'll let ya see my notes."
Standish couldn't help but swallow hard as Chris stopped in front of him. "You're late."
"Yes." Ezra unconsciously ran the tip of his tongue over his lower lip. "Ya see, I was thinkin' tomorrow was the twenty-fifth...and then the car was on empty and…" he paused and motioned toward his still wet pantleg as he thought silently, And, damn, why can't I ever seem to talk my way out of a situation with this man?
Larabee's expression hadn't changed; lips pressed together, impassive blue eyes. His gaze flicked to the clock in the conference room, then back to Standish. "An hour and forty minutes."
"Yes. I--"
"Save it. Get the briefs from one of the others." Chris crossed to his office, leaving Ezra pressing at the headache that suddenly appeared at his left temple.
Standish made his way to the break room, ignoring the smart-ass comments of his co-workers directed at his tardiness and the Frapaccino stain at his lower leg. He dropped his portfolio on the counter and from the cupboard pulled down a mug that stated, 'If you look good and dress well, you don't need a purpose in life.' Ezra wondered how much lower his morning could sink as he reached for his coffee grinder and realized it would be rather ineffectual without the whole beans he had forgotten to purchase. Desperate for caffeine, the southerner poured out a dose of the office brew, gathered up his leather case and headed for his desk.
He noticed it instantly. And when, later in the day, he reflected back on his immediate reaction he was surprised and a little saddened that the reaction had been fear.
A decoration had found its way into his office.
Something that would imply that this was his space, that this was somewhere he felt comfortable. Suggest a surrounding where friends could come to him. Indicate a place that he wished very much to stay at.
But becoming attached had never worked out well for Ezra Standish. Whether it was being moved from place to place by his mother during childhood or cleaning out his desk as yet another tenure in his career had been revoked. He had developed an unconscious superstition toward laying claim to anything he felt he could not wholly control. Yet someone else had brought this in. If it wasn't actually his then perhaps it didn't count.
A small, potted cactus sitting next to a postcard print of Erté's black background 'Alphabet' set in a brushed silver frame. A carefully printed note on a clean, half sheet of unlined paper rested next to the gifts.
"To some, the cactus looks like it's trying to keep the world from getting close to it. But for those who get past its needles, it holds the stuff that nourishes life."
Ezra couldn't help the small smile that found its way to his lips. He rested his portfolio and coffee mug on his desk and took a moment to neatly fold the note and slip it behind the postcard so it was wedged securely between the print and the frame's backing. Extending the thin stem of the frame, he propped the picture back in its place beside the small spiny plant, pulled out the high-backed office chair and took a seat; realizing he would most likely be staying late in his office that night...and for once, not minding a bit.
---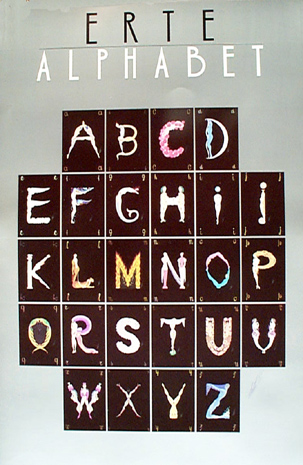 ---
~ Return to "The Magnificent Seven" Page ~